Roscoe's Pays Cash for Cars in Charlottesville, VA
Cash for junk cars Charlottesville VA. Roscoe's only works with reputable junk car buyers in Charlottesville with a track record of honest business ethics and reliable service. This allows you to avoid possible unexpected fees and hassle. Why risk selling your car for cash to an unlicensed junk car buyer or possibly worse to unreliable buyers from Internet classifieds like craigslist or apps like offer up or let go.
Instant Cash offers from Roscoe's
We will need some details about your car or truck like the year, make, model and condition in order to provide an accurate quote. If you accept our cash offer for your car or truck you will then be able to schedule a convenient pickup time with our dispatcher. In Charlottesville, Pickups are normally scheduled for the same or next business day during daylight hours.
Roscoe's pays you on the spot
You will get paid instantly, in cash right on the spot. Our Driver will walk you through the process exchanging documentation for DMV, the keys, and junk vehicle for payment at the time of pickup. Our Charlottesville car junkers are friendly experienced professionals that specialize in this service. Payment will generally be made in cash. Sell your junk car for cash in Charlottesville today.
Cash For Cars in Charlottesville, VA (434) 285-0599
Junking cars in Virginia is where we got our start and we are still proud to call this our home. This was one of the first areas we expanded in to and we have a reliable local crew buying junk cars 6 days a week. Contact us today for a quote and an appointment to sell your junk car.
Tell us some details about the car you're selling.
Got a junk car you want to sell for cash in Charlottesville? Give us a call or fill out our request a quote form. You will need to answer some questions about your car or truck like its year, make, and overall condition. The more details you can provide the easier it is for us to accurately give you a quote. It's helpful to know if it can start and drive, how many miles are on the odometer. We will also need to know what proof of ownership documentation you can provide. Our operator will also ask for finer details like exterior damage such as missing or damaged body parts or mechanic components. Broken lights glass or mirrors hail damage or dents on the body.
Please provide our operators with honest information to get the most accurate quote possible. This ensures the price we offer for your car won't change at the time of pickup like many bait and switch schemes you may run into from less reputable junk car removal services.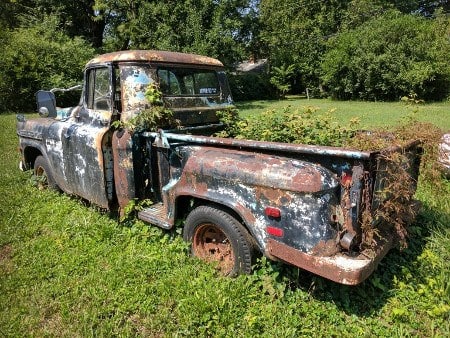 If you're trying to sell your junk car for cash with no title in Charlottesville, VA we can in some cases help but we will require documented proof of ownership. We only buy cars from documented owners. At Roscoe's Junk Cars our integrity is important to us and it should be to you too before you have just any fly by night junk man come to your home or work to buy your junk car.
We are Easy to reach on any device
At Roscoe's we make a point to answer every call, text, email, or form submission immediately. When you contact Roscoe's you are connecting with a modern customer service center allowing you to communicate with us via phone, text message, social media, and of course our quote submission form on our website. More efficient communication equals faster service allowing us to get that unwanted vehicle out of your yard or driveway in Charlottesville fast. All of our employees work right here in our main office in Virginia so they know the area well.
Roscoe's will give you an instant cash offer for your junk car in Charlottesville.
Roscoe's does business differently, we buy junk cars for cash and we get it done faster. When you request a quote you get an instant offer for your vehicle right away.  No waiting for contractors or subcontractors to get back to us with a price for your junk car. The personnel that answers our phones and respond to our quote request forms have the authority to make an offer immediately. What we offer you here is what our driver will pay when they arrive. We may ask for photos in some cases such as newer vehicles to verify a vehicles condition or ownership.
At Roscoe's, we always make our best effort to buy every car, truck or SUV. We work hard to get you the highest offers and pay top dollar for your scrap car or truck. We work with several experienced and professional junk car buyers in Staunton, VA. Our various junk car buyers are each after a specific variety of junk and scrap vehicles. This allows us to connect you with the buyer willing to pay the most money for your
Fast and easy junk car removal in Charlottesville
If you like our offer and decide to have Roscoe's purchase and remove your vehicle we may request some additional details needed to make the process easier. We will need details such as the VIN, color and exactly where the vehicle is parked and how accessible it is. We will ask to verify that you have a transferable vehicle title. Once we have all this information one of our friendly and professional drivers or auto recyclers will contact you directly to schedule a time for pickup. Roscoe's junk car buyers near Charlottesville specialize in this service and can generally have you paid and your car picked up within 24 to 48 hours of your first contact with us. In some cases we can even pick your vehicle up on the same day you call.
Tow-away and vehicle pick up are always included, there will no hidden fees or unexpected costs. Payment is made on the spot by our tow truck driver in cash. There is no better way to sell your junk car for cash in Charlottesville, Va.
Charlottesville, VA Junk Car Removal Questions Answered
Does Roscoe's sell parts?
No, Roscoe's deals only in complete vehicles and does not sell parts directly to the public at this time. If you are looking for parts contact your local Charlottesville junkyards, auto parts stores or auto salvage yards.
Are there any fees? Is the price going to change when the tow truck gets here?
Roscoe's never charges for tow away or has any hidden surprise fees. So long as the information about your vehicle was provided to us accurately the price will never change. However if your vehicle condition was misrepresented or you are lacking required documentation we do reserve the right to adjust the price or not buy the vehicle at all. If you are unsure we will be happy to photo verify condition and documentation with you.
How do I fill out my Title?
Virginia junk car title transfer is fairly easy and we would prefer that we walk you through the paperwork including the title when our driver arrives. If you want to fill out the title yourself be sure to ONLY fill out the seller section neatly. Any information written on the title needs to exactly match the ownership information printed on the title. Unsure? Send us a photo or our buyer will be happy to help you when they arrive.
Will you buy my car if it is incomplete or is missing the keys?
Yes we can! Roscoe's Charlottesville car buyers are equipped to tow vehicles in poor condition without keys. Vehicles without keys or that are incomplete leave us with limited options to sell them ourselves. This greatly reduces what we can offer for your car truck or van. To get the most money for your vehicle try to locate the keys and any loose parts. The parts do not need to be installed, just present to be considered complete!
When can you pick up my car. I could use the cash for it today.
A: We make our best effort to not just be the highest paying junk car buyers in Charlottesville but also the fastest. To expedite this service call us or provide all details possible on the quote request form. We can generally respond within a couple hours if not immediately to most requests with a quote and exact pick up day and time. Most of our junk car removals are done within 24 to 48 hours but can at some times be performed the same day you contact Roscoe's. Your time is important to us. We specialize in just this service so your call and your appointment will be our only priority.
Will I be paid cash for my junk car or a check?
Most of the time our buyers pay cash for cars in Charlottesville. There are times that our drivers are making payment by check especially for larger amounts or when buying multiple vehicles. If you have a payment preference please let our dispatcher know at the time of pickup. Money orders and pay pal is also available for those who desire alternate payment types.